Trophies for Artists



2016 - 2018
Participatory Sculpture Series

Over the course of three years Julia Caston made trophies for self-identified artists, and the trophy signified that they won at art. In exchange, they bought her a cup of coffee or fancy espresso beverage, and talked to her for at least 20 minutes. The artist got to keep the trophy. Julia has created 56 trophies over the course of three years for artists in Greensboro, NC, Nova Scotia, Canada, and Nebraska City, NE.





Trophy for Jorge Espinoza


What Julia Caston drank:
draft latte
Location:
42 & Lawrence, Raleigh, NC
Topic of conversation:
minimal viable product, a concept in which a product is released and can then be modified and improved. This trophy is modular and modifiable.
Artist's medium:
photography and entrepreneurship
Trophy materials:
wire, cord, fabric, batting
2018
Trophy for Oami Powers


What Julia Caston drank:
dark chocolate mocha with oat milk
Location:
Videri , Raleigh, NC
Topic of conversation:
a shrine to making time for art
Artist's medium:
drawing and painting
Trophy materials:
cardboard, poster tubes, paint, ribbon, pom poms, fabric, batting
2018
Trophy for Kimberly Acosta


What Julia Caston drank: cappuccino
Location:
Sir Walter Coffee, Raleigh, NC
Topic of conversation:
Kimberly plays a lot of instruments and she is learning to play the drums
Artist's medium:
traditional and digital arts
Trophy materials:
fabric, batting
2018


Trophy for Kamaria Wells


What Julia Caston drank:
earl gray tea latté
Location:
Lucky Tree, Raleigh, NC
Topic of conversation:
the weight of doing right by others
Artist's medium:
mixed media, sculpture, painting
Trophy materials:
wire, net, paper wax
2018
Trophy for Summer Woodard


What Julia Caston drank:
cappuccino
Location:
Coffeeology, Greensboro, NC
Topic of conversation:
the sensation of being on a swing set
Artist's medium:
digital art
Trophy materials:
fabric, wood, wire, model magic
2018


Trophy for Yasmin Ali

What Julia Caston drank: mocha
Location:
Liquid State, Raleigh, NC
Topic of conversation:
Yasmin's job is marketing candle-making kits to fancy ladies
Artist's medium:
photography
Trophy materials:
Barbies, wire, mesh, wax, ribbon, batting
2018


Trophy for Pasha Gray

What Julia Caston drank:
mocha
Location: 42 & Lawrence, Raleigh, NC
Topic of conversation:
Pasha wants to uplift women
Artist's medium:
film
Trophy materials:
fabric, batting
2018


Trophy for Nan Stombaugh


What Julia Caston drank:
oat milk mocha
Location: Sip, Raleigh, NC
Topic of conversation:
women problems
Artist's medium:
photography and digital media; jewelry – metalsmithing.
Trophy materials:
wire, plastic mesh, fabric, batting
2018


Trophy for Shirly Cooper

What Julia Caston drank:
Mocha
Location:
42 & Lawrence, Raleigh, NC
Topic of conversation:
when Shirley worked for NASA, she sent lettuce seeds into space so astronauts could grow their own food
Artist's medium:
painting, drawing, sculpture, photography/film/technology, mixed media and collage
Trophy materials:
found container, fabric, batting
2018


Trophy for Harriet Hoover

What Julia Caston drank:
mocha
Location: Liquid State, Raleigh, NC
Topic of conversation:
Harriet needs a lamp for her new apartment
Artist's medium:
sculpture and performance
Trophy materials:
lampshade, cardboard, found objects
2018


Trophy for Natalia Torres del Valle

What Julia Caston drank: white chocolate orange blossom mocha
Location:
Sip, Raleigh, NC
Topic of conversation:
intermodal transfer, a concept in art therapy in which one creative action leads to another
Artist's medium:
art therapy
Trophy materials:
fabric, batting, ribbon, lace
2018


Trophy for Holly McAdams Olson


Artist's medium:
ceramics and arts administration
What Julia Caston drank:
cappuccino
Conversation:
tree farm
Location:
Scooters, Nebraska City, Nebraska
Materials:
glass, wire, fabric, twigs
2017
Trophy for Leandra Vane


Artist's medium:
writing
What Julia Caston drank:
snickers latté
Conversation:
male angel impregnation erotica
Location:
Scooters, Nebraska City, Nebraska
Materials:
spray foam insulation, found angels, packing peanuts, paint, plaster, fabric
2017
Trophy for Katie Pryor


Artist's medium:
poetry
What Julia Caston drank:
matcha tea latté
Conversation:
romantic woes
Location:
Scooters, Nebraska City, Nebraska
Materials:
model magic, veggie tray, plaster, string, paint
2017
Trophy for Clifford Davis


Artist's medium:
painting and news reporting
What Julia Caston drank:
coffee with honey and milk
Conversation:
he's not from around here
Location:
The Keeping Room, Nebraska City, Nebraska
Materials:
wire, newspaper, paint, yarn, packing peanuts
2017
Trophy for Sloan Killion


Artist's medium:
painting and sculpture
What Julia Caston drank:
coffee with honey and milk
Conversation:
children's books teach kids right from wrong
Location:
The Keeping Room, Nebraska City, Nebraska
Materials:
found book, found toys, yarn
2017
Trophy for Olga Tsitlik


Artist's medium:
creative writing
What Julia Caston drank:
hazelnut and peanut butter latté
Conversation:
discovering her shadow self.
Location:
Common Grounds, Greensboro, North Carolina
Materials:
wire, wood, cotton balls, paint
2017
Trophy for Rebekah Evans

Artist's medium:
painting and drawing
What Julia Caston drank:
cappuccino
Conversation:
the best burrito.
Location:
Coffeeology, Greensboro, North Carolina
Materials:
air-dry clay, tinfoil, wire, paint
2017
Trophy for Trey Vanterpool

Artist's medium:
painting and charcoal
What Julia Caston drank:
cappuccino
Conversation:
It's better to buy.
Location:
Coffeeology, Greensboro, North Carolina
Materials:
wood, paint
2017
Trophy for Lu Xu

Artist's medium: sculpture and performance
What Julia Caston drank:
vanilla latté
Conversation:
Lu wants to make a zine about butchering a chicken, and she wants to create a garden/forest plot. She needs a visa to stay in the United States.
Location:
Coffeeology, Greensboro, North Carolina
Materials:
wood, plaster, felt, yarn, electric candle, plastic eagle, playdough, plastic spoons
2017
Trophy for Jiyoung Park

Artist's medium:
photography
What Julia Caston drank:
iced coffee
Conversation:
Jiyoung made a photo series about disconnecting from the artificial and enjoying nature.
Location:
Coffeeology, Greensboro, North Carolina
Materials:
coffee carrier, plaster, felt, paint, melted crayon, glitter
2016
Trophy for Sherrill Roland


Artist's medium:
social practice
What Julia Caston drank:
unknown
Conversation:
when Sherrill was wrongfully incarcerated, he drew portraits of other prisoners with golf pencils, which he sharpened by rubbing them against his desk.
Location:
Coffeeology, Greensboro, North Carolina
Materials:
acrylic sheet, golf pencils
2017
Trophy for Amanda Womack


Artist's medium:
photography and clay
What Julia Caston drank:
latté
Conversation:
Amanda refuses to take medication for her anxiety. She thinks she is meant to live in the wilderness because she has Sami DNA.
Location:
Spring Garden Bakery & Coffee, Greensboro, NC
Materials:
felt, medication bottles, chicken wire
2017

Trophy for Barbara Campbell Thomas


Artist's medium:
acrylic and collaged fabric on canvas
What Julia Caston drank:
latté
Conversation:
Barbara thinks about what it's like to be a mother and abstract painter living in rural America.
Location:
Tate Street Coffee, Greensboro, NC
Materials:
ceramic birds, wreaths, wire, air-dry clay, paint
2017
Trophy for Sebastian Lindquist


Artist's medium:
sculpture
What Julia Caston drank:
latté
Conversation:
Sebastian has a boat that someone named First Wife. "That swimming hole had a big effect on me."
Location:
Coffeeology, Greensboro, NC
Materials:
chicken wire, silicone, metallic fringe, wood, air-dry clay
2017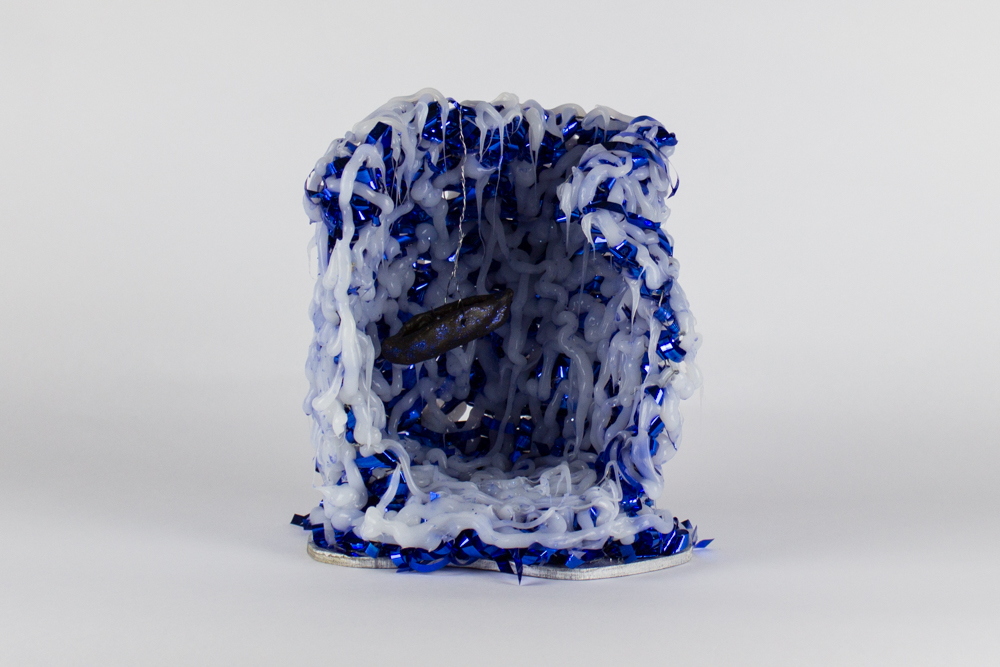 Trophy for Nadia Hassan


Artist's medium:
design
What Julia Caston drank:
latté
Conversation:
Nadia doesn't think art should be magical or mystical and there should be no gatekeepers to the artworld.
Location:
Tate Street Coffee, Greensboro, NC
Materials:
metal, ceramic unicorn, paint
2017
Trophy for Jessica Wilkins


Artist's medium:
ceramics, painting, drawing and sculpture
What Julia Caston drank:
latté
Conversation:
Jessica is a diamond in the rough.
Location:
Tate Street Coffee, Greensboro, NC
Materials:
jar, air-dry clay, diamond paperweight, paint
2017
Trophy for Linda Kent


Artist's medium:
painting and making things
What Julia Caston drank:
tea latté
Conversation:
when Linda is anxious about the Trump administration, she rubs circular plaster disks.
Location:
Tate Street Coffe, Greensboro, NC
Materials:
air-dry clay, wire, paint
2017
Trophy for Adam Carlin


Artist's medium:
social practice
What Julia Caston drank:
iced coffee
Conversation:
in Buddhism, life is suffering and one is not really represented by one's body as it is collection of disparate parts.
Location:
Green Bean Coffe, Greensboro, NC
Materials:
wood, yarn, paint, wire
2017
Trophy for Kelly Rambo


Artist's medium:
social practice and drawing
What Julia Caston drank:
iced latté
Conversation:
she's not bottling it all up anymore.
Location:
Tate Street Coffee, Greensboro, NC
Materials:
fake flowers, bottles, wood
2017
Trophy for Brian Paulino


Artist's medium:
painting
What Julia Caston drank:
mocha
Conversation:
Brian's senior art studio was full of asbestos. New Orleans, where he is from, has an excellent insectarium.
Location:
Tate Street Coffee, Greensboro, NC
Materials:
toy gas mask, metal, paint, plastic butterflies
2017

Trophy for Celia Cortez


Artist's medium:
painting
What Julia Caston drank:
cold brew coffee
Conversation:
dying of boredom at a museum guard job.
Location:
Coffeeology, Greensboro, NC
Materials:
wood, paper, floor tiles, paint
2017

Trophy for Sheryl Oring

Artist's medium:
social practice and installation
What Julia Caston drank:
mocha
Conversation:
women are still not respected in journalism.
Location:
Tate Street Coffee, Greensboro, NC
Materials:
wood, newspaper, glue
2017
Trophy for Kathy Cooke


Artist's medium: sculpture
What Julia Caston drank:
latté
Conversation:
working inside on a computer versus being outside.
Location:
Tate Street Coffee, Greensboro, NC
Materials:
wood, paint, air-dry clay, moss, keyboard keys, cardboard.
2017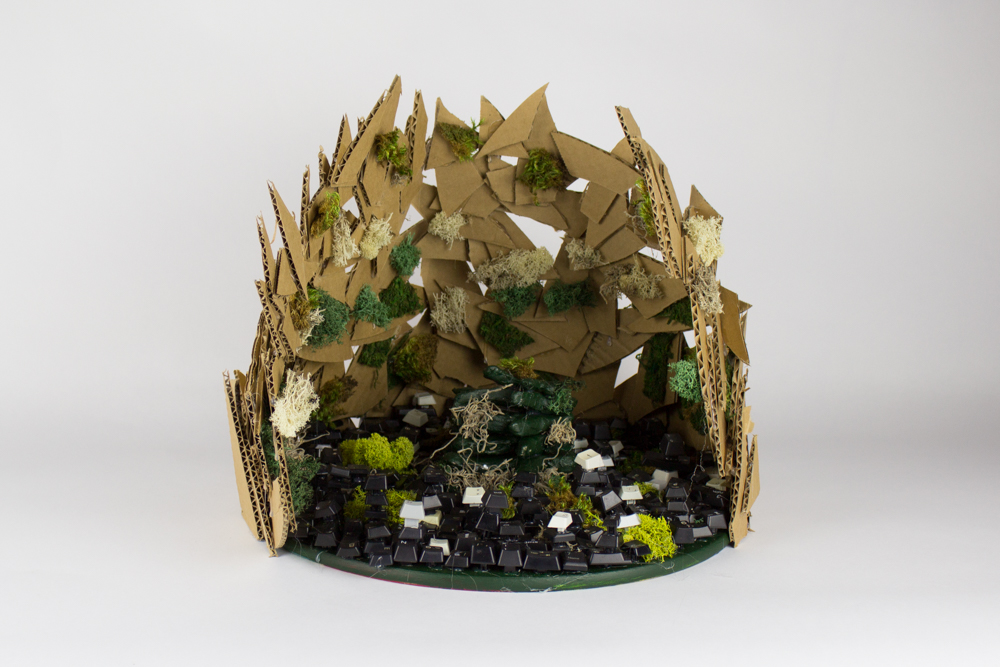 Trophy for Anna Wallace


Artist's medium:
ceramics and textiles
What Julia Caston drank: cappuccino
Conversation:
Anna wants a baby.
Location:
The People's Perk, Greensboro, NC
Materials:
cupcake baking pan, plaster, plastic babies
2017
Trophy for Dave MacGregor


Artist's medium:
painting, stained glass, theater scenery
What Julia Caston drank:
cappuccino
Conversation:
Dave often makes paintings of landscapes, especially the ocean. He loves nature. He is trying to move into abstraction.
Location:
Downstreet Coffee Company, Inverness, Nova Scotia
Materials:
glass, spray insulation, drift wood, paint
2016
Trophy for Virginia McCoy


Artist's medium:
painting
What Julia Caston drank:
latté
Conversation:
Virginia had to draw a dump truck in high school art class. "Nothing is hard and fast."
Location:
Downstreet Coffee Company, Inverness, Nova Scotia
Materials:
marble, toy truck, felt, pom-poms
2016
Trophy for Elizabeth Whalley


Artist's medium:
drawing, painting, installation, printmaking
What Julia Caston drank:
iced latté
Conversation:
everyone is battling for Elizabeth's attention. She has to organize a lot of weddings.
Location:
Downstreet Coffee Company, Inverness, Nova Scotia
Materials:
trophy figurines, marble, string, cake cover, homemade air-dry clay
2016
Trophy for Jim Mustard


Artist's medium:
music
What Julia Caston drank: latté
Conversation:
Jim must be transparent because he is a council member, so he lives in a glass house. He represents Inverness (where this birch bark comes from).
Location:
Downstreet Coffee Company, Inverness, Nova Scotia
Materials:
glass, twine, burlap, bark
2016
Trophy for Jen Vivian


Artist's medium:
fibers
What Julia Caston drank: mocha
Conversation:
being Inuit, healing, changing the molecular makeup of water through meditation, animals, and feminine energy in fibers.
Location:
Downstreet Coffee Company, Inverness, Nova Scotia
Materials:
Antlers, glass, wire, fabric, stones
2016
Trophy for Robin Hill


Artist's medium:
sculpture
What Julia Caston drank:
latté
Conversation:
Robin works in a university, which is an ivory tower. When she is in Inverness, she is in her artistic bubble. She collaborated with the earth on a collection of rock orbs.
Location:
Downstreet Coffee Company, Inverness, Nova Scotia
Materials:
sand, styrofoam balls, jars, wire
2016
Trophy for Rose Cameron

What Julia Caston drank:
iced latté
Artist's medium:
vocal music
Conversation:
someone has a confederate flag mailbox, and Rose wants to burn it. Gun control. She kept a practice journal for school, and she is a singer. It breaks her heart when kids don't care about music.
Location:
Downstreet Coffee Company
Inverness, Nova Scotia
Materials:
felt, wire, book, toy gun, foam,
2016
Trophy for Anne Levesque


What Julia Caston drank:
lemonade
Artist's medium:
writing
Conversation:
environmentalism, the importance of observation, and the benefits of living in Canada rather than the United States.
Location:
Downstreet Coffee Company, Inverness, Nova Scotia
Materials:
glass, fake leaves, lantern
2016
Trophy for Jasmine Jones


Artist's medium:
gardening, clothing design
What Julia Caston drank:
iced vanilla latté
Conversation:
Jasmine is an extreme gardener.
Location:
Downstreet Coffee Company, Inverness, Nova Scotia
Materials:
floor cleaner attachments, fake flowers, found figurines, popsicle sticks, pom poms, feathers, styrofoam balls, yarn, twine, pipe cleaners.
2016
Trophy for Jamie Phillips

Artist's medium:
jewelry
What Julia Caston drank:
mocha
Conversation:
Jamie makes jewelry and was in a band with her sister. She made volcanoes with children.
Location:
Downstreet Coffee Company, Inverness, Nova Scotia
Materials:
homemade air-dry clay, marbles, chicken wire, toy guitar
2016
Trophy for Richelle Soper

Artist's medium:
sculpture
What Julia Caston drank:
vanilla latté
Conversation:
Richelle is a-one person factory, and this trophy features a 3D print of her head.
Location:
Coffeeology, Greensboro, North Carolina
Materials:
plaster, fake flowers, paint, ribbon, play dough, glitter, dryer lint, 3D print
2016
Trophy for Chris Cassidy


Artist's medium:
interdisciplinary media
What Julia Caston drank:
vanilla latte
Conversation:
Chris wandered around the forest in grad school; at one point, he wanted to be a Renaissance sculptor. His art involves technology
Location:
Tate Street Coffe, Greensboro, North Carolina
Materials:
model trees, imitation moss, wood, computer components, paper
2016
Trophy for Kate Robinson


Artist's medium:
drawing, installation
What Julia Caston drank:
vanilla latté
Conversation:
Kate is like a duck because things just roll of her back.
Location:
Tate Street Coffee, Greensboro, North Carolina
Materials:
glass jar, plush duck, foam letters
2016
Trophy for Derek Toomes


Artist's medium:
interdisciplinary media
What Julia Caston drank:
unknown
Conversation:
Derek knows everything about computers.
Location:
Tate Street Coffee, Greensboro, North Carolina
Materials:
found book, collaged paper
2016
Trophy for M Hayes


Artist's medium:
video
What Julia Caston drank:
latté smoothie
Conversation:
speaking in tongues
Location:
Tate Street Coffee, Greensboro, North Carolina
Materials:
clay, imitation moss
2016
Trophy for Joyce Watkins King


Artist's medium:
textiles, sculpture, printmaking, installation
What Julia Caston drank:
Iced latté
Conversation:
breast cancer, textiles
Location:
Tate Street Coffee, Greensboro, North Carolina
Materials:
wood, glass, fabric, Model Magic
2016
Trophy for Sheena Rose


Artist's medium:
painting, drawing, performance
What Julia Caston drank:
Iced coffee
Conversation:
sometimes people are mean
Location:
Tate Street Coffee, Greensboro, North Carolina,
Materials:
clay, paint, plastic bag
2015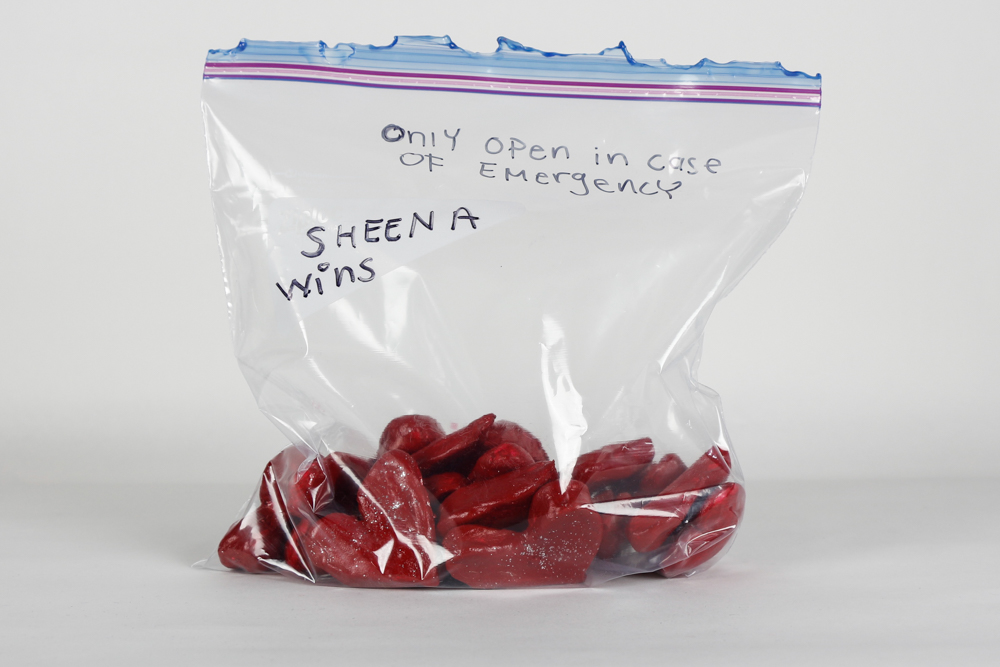 Trophy for Carmen Neely


Artist's medium:
painting, sculpture
What Julia Caston drank:
iced latté with pumpkin flavor
Conversation:
Carmen's sculpture look like little poops; importance of incorporating theory into one's work while still being playful
Location: Coffeeology, Greensboro, North Carolina
Materials:
clay, paint, googly eyes, glitter
2015
Trophy for Kate Gordon


Artist's medium:
painting
What Julia Caston drank: iced coffee
Conversation:
how to deal with horrible things in the news. Trophy can also be worn as a hat.
Location: Coffeeology, Greensboro, North Carolina
Materials:
wire, string, Model Magic
2015
Trophy for Alex Soler


Artist's medium:
sculpture, drawing
What Julia Caston drank:
iced coffee
Conversation:
things that are good about the south
Location:
Coffeeology, Greensboro, North Carolina
Materials:
found objects, wood, string, paint
2015

Trophy for Mariam Stephen


Artist's medium:
painting and drawing
What Julia Caston drank:
iced coffee
Conversation:
Mariam wants the largest and most ridiculous trophy
Location:
Tate Street Coffee, Greensboro, North Carolina
Materials:
plaster, paint, wheels, wood, wire, glass
2015